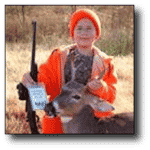 By HSP Member, Keith (Dad)
My 11 year-old Son Seth did it again this year! He now has "4" bucks in four Missouri Youth Seasons! I couldn't be more proud!
Saturday we had some exciting action. We saw a nice buck cross the road into the farm we had reserved. Seth hoped we would see that buck in the woods but, we didn't see anything early on. I was beginning to doubt the spot I picked out. I was talked into buying one of those "can" bleat calls from a co-worker so we tried it out around 9 o'clock. The next thing you know we were surrounded by does and fawns. They knew something was up though and started blowing at us. A pair of fawns came within 10 yards of us, but Seth said they were "too small". They stuck around for almost an hour giving us quite a show. After they finally left we went for lunch and a nap.
In the evening, when it started getting dark, we tried the Can Call again, coupled with a grunt tube. Suddenly we heard a long grunt to the north of us. We could hear the buck pacing through the brush but it wouldn't come out close enough for us to see it. Then the same two fawns showed up from the south and busted us again. We stayed until it was too dark to see but never saw the buck.
Seth got a pup tent and sleeping bag for Christmas last year so he wanted to camp out on the property. It was more than a bit chilly at night for my old bones and at the end of the day a hot shower, a cold beer, and a warm bed would of been nice. But I wouldn't change a thing since we had some really nice father/son talks while laying in our bags and listening to the owls and coyotes.
Sunday morning we headed out extra early and watched the sun rise without seeing a deer. At 7 o'clock or so, Seth wanted to try the Can Call again. We made a deal that I would look to the east and he would watch the west. After a short time I turned around and saw a spike buck standing 20 yards away in front of Seth, staring at us! We were both so surprised Seth barely started raising the gun before it took one leap into the creek bottom and out of sight. While I quietly tried to stress to him the importance of paying attention I glanced to the north and saw a small buck walking about 50 yards away. Seth slowly raised the gun, said he was on him in the scope, and pulled back the hammer. The buck still didn't know we were there. I whispered to him that when the buck walked to a clear spot I would hit the Can Call and stop him. When the buck approached the spot I let the call do its job. The buck stopped perfectly and turned his head our way. POW! At the .243 rifle's report the buck hunched up and did the donkey kick. He ran only a short distance before we heard the crash of his last leap. We did high fives and hugs then waited a few minutes before I had Seth follow the blood trail to his prize. We both thought the buck was probably a small four or six point but we were pleasantly surprised it had a very little 10 point rack.
Big 10 point smile, "...the rack may have been small, but to him it may as well be a new World Record!"