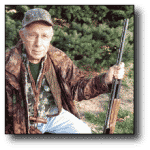 Dave and Tom, HSP members, found themselves facing 40 MPH south winds, with gusts to 50 MPH!
We selected pond 2, being we had two blinds to choose from and took the far southeast blind as the wind was to our backs.
Setting out the decoys was difficult enough. The water level was extremely low, exposing the mud flats causing each step to add another coating of mud! After five steps each foot weighed ten pounds! Well, it felt that way.
We expected the wind, but hardly expected the 50 MPH gusts. With a weather front moving through and rain expected later in the evening, we hoped the ducks and geese would be headed south.
We guessed right on the ducks, but strangely the geese were no shows. It seemed like every fifteen minutes or so, we worked a flock of ducks. Due to the exposed mud flats the blind was too obvious and most of the bigger flocks flared away just as they came in gun range. It is always amazing to me how quickly (two or three seconds), waterfowl can become out of shotgun range.
We ended up with 6 ducks, one redhead, four gadwall, and one bluebill. We lost two. We did not have a retriever so we had to wait for the downed ducks to float to the far side. My shooting could have been better, but "wind-age and elevation" was difficult in the windy conditions (my excuse).
Concerned about the weather, as we both dreaded picking up the decoys knowing we would be facing strong winds and mucky mud. One of us used an extension pole to reach the close decoys while the other used a fishing pole with a large treble hook to grab the decoys anchor cord. This process is time consuming at best, even in good weather conditions. It was nearly impossible in high winds! Both of us "old timers" were whipped once we had the decoys dragged up on the mud-flats. After a ten minute rest period, and a serving of "smoked salmon from a can" by Tom, a long walk to the cars was a cinch, compared to retrieving the decoys. We drove to the blind, loaded up and happily headed for home.