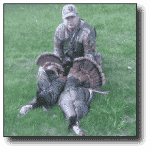 Last year was my first year to try turkey hunting and there was definitely a steep learning curve. I think that I got out approximately 8 or 10 times last season and came out of the empty handed. I didn't really know anything about the sport (I'm primarily an upland guy) and basically picked up some things from watching the outdoor channel. The bad luck worked its way into this season. I tried everything...from using several different calls, going at different times of the day, finding out where they roost, so on and so forth, all to no avail. I would definitely get gobbles and there was several times where they moved within 75 yards or so but they always hung up on me.
I spent a small fortune at Cabela's on various gear and calls and it was getting me nowhere. Finally, last week the light came on. I started using lighter calls, with less frequency and a very simple Jake and hen foam decoy set up. I also started to increase my wait times from a half hour or so to 45-60 minutes. There was several times where I got up because there was no action only to spook a bird coming in quiet.
Last Thursday I actually went out in the late afternoon to hunt because I had some errands. I took my dad with me because I have been trying to get him into the sport and he seemed to enjoy it as well.
We got to the property around 4:30pm and set up. We got a gobble right away and worked the bird for about an hour but the dirty son of a gun would just not come in.
You have to understand the frustration level I had at this point. I had been out so many times and had no success. I actually started to believe there was only one Tom on the property and he was the smartest bird in existence! Finally, after he refused to come in I decided to try to maneuver around him, and of course I quickly spooked him. Dad and I decided to go to a clearing just over the ridge and try one more time before we called it an evening. As we came to the clearing I'll be darned if I didn't spook another. At this point I thought there was no way we were going to get anything, but we set up and I started light calling with a slate call as well as a few clucks from a mouth call. As we were doing this a storm started. It didn't start raining but there was some thunder and suddenly the timber came alive. The thunder must have been annoying the heck out of the gobblers because it seemed like we were hearing calls from everywhere. I counted 4 or 5 different areas where we were hearing calls and Dad said he thought it was more like 6 or 7. After about 30 minutes of light calling there was one gobbler that was coming in and he was loud! He turned out to be 3 Toms and they actually circled around behind us as opposed to coming straight in on us. If they had, Dad would be the one who got the birds and not me. The dominant bird headed toward the Jake in full strut and as soon as they went behind a small tree, I got the gun ready. When they came out I put the smack down on the lead bird, and then got the second before he could get away. (#3 got away).
Those are my first two birds and man it was something! I enjoyed the experience and can't wait to try and fill the third tag.
- Tom