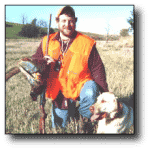 It was that time of year again, a time that brings out the youth in most of us.
In preparing for this special day we all go through our own rituals, checking our supply of ammunition, checking and cleaning our guns, bows, decoys and all related equipment. So much to do and it seems that most of us don't get everything done. We end up working late the night before, depriving us of the sleep needed for the early morning start. Opening day has different meanings for different folks. You have the waterfowlers. These die-hard outdoorsmen wouldn't miss this opener on a bet. Same goes for the deer hunters. The deer (bow-hunters) are a more dedicated group of individuals than I"ve ever encountered. I can't leave out the upland hunters. They are also totally devoted to their flying friends and would argue the virtues of their favorite dog breed at the tip of a hat. an entire book could be written on each group and their peculiarities. I didn't purposely demean the dove, rabbit, and/or squirrel hunters. They deserve mention along with the others. My intention was to point out the mainstream groups.
Now I know there are numerous double and triple dippers! Meaning there are a lot of nuts like me that will hunt the duck opener, the upland opener, and hit the goose or deer season opener also. I consider myself a nut because every year I make a resolution to have my dog in good shape, and that I would be in better shape. In addition to that, I would have all of my gear sorted.
So far, even though I have been retired for two years, those jobs have not been accomplished. For example, the Missouri pheasant opener this past November, member Joe Breigenzer, his dog "Luke," along with me and (my *aaRP dog) Fay, opened the season on one of our excellent leases in the NW corner of the state. I arrived an hour early. Now anyone could come up with a dozen reasons why I arrived so early, but the fact is I couldn't sleep. Opening days do that to me. I remember as a youngster going through this same scenario.... all I could think about was dogs pointing, birds flushing and puffs of feathers as the birds crumble to the ground. One would think I would outgrow this opening day phenomenon.
*AARP dog in reference to Fay means old, overweight and slow. Now this is not necessarily bad. Not in my case anyway, since I match that description too!
So here I was, at the property an hour early. Light is just beginning to show in the east. I drive around our property and double check for HSP signs. I drive back to a major intersection and double check the mileage marker to make sure I"m at the proper map coordinates. I call Joe on his cell phone and find out he is still a good hour away. I drive to the nearest town and locate a Casey general store. They have breakfast rolls and fresh coffee.
I drive back to our spot, let Fay out to do her thing while I put on brush buster pants, and hunting boots. Re-check the shell selection made and placed in my hunting vest last night. "Lo and behold," I'm ready for action!
Joe arrives and we agree on a pincer movement plan in which we work toward each other expecting the birds to hold for points or to flush towards the other hunter. Fay disappears almost immediately. I realize in my excitement (here we go again) that I forgot to put on her beeper collar.
The CRP didn't look that thick from the road, but regardless, I should have had that collar on her and beeping so I knew where she was and if she was on point. Well, you can guess the result. I hollered and whistled for her to get back to me and after several calls, 4 or 5 roosters busted out and didn't go towards Joe or me. They were out of range. Fay had them. She was forced to bust them at my insistence for her to return. What a way to start the season. So I went back to the car, got the collar, and started over.
The rest of the morning went better. Joe made a nice shot on a mature rooster that he nearly stepped on. I missed my first chance on a rooster that flushed well in range. No excuses, had a nice side shot, just didn't connect. around 10:30 Joe mentioned he was going to work his way back to his car and head out as he had a late shift to work. To my surprise, I had my two birds before he reached his car. The birds were there, one just had to put in the time.
By the time I made it back to my car, my back was aching, and my legs were cramping. and it was barely noon! So much for being in better shape!