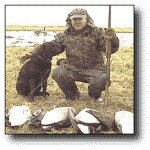 Members Dave and Frank headed to "The Pits" in late January, expecting the Canada geese to be using the open water at the Kansas La Cygne Lake power plant. Our expectations were beyond our wildest dreams! Canada geese were thick and populated the entire area. Thick clouds with morning fog helped keep the geese flying low.
We hunted three consecutive days. We limited out early each day.
Our snow goose decoys were limited to around a dozen. We placed those around one edge of our honker spread and each day stayed a couple hours after taking our limits of honkers, hoping to get some snows. While we did see several large skeins of snow geese, none showed any signs of serious interest.
The road conditions at the pits went from bad to impassable. Day one was considered passable. Snow drifts were melting, roads were muddy but frozen main roads were the only salvation. Day two was worse. Rain and melting snow made roads very difficult. By day three the snow and ice was nearly gone, high water on all roads, mixed with mud, and more rain made it near impossible.
For those willing to fight the roads, the rain, and dropping temperatures, will be rewarded with a hunt to remember.