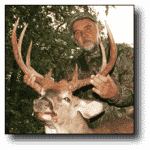 The day before opening day of bow season my hunting buddy and I arrive at the farm we have reserved to do some scouting and stand hanging. We met with the landowner as was requested in the reservation. We got some tips from him, and set out to do some scouting.
After scouting and setting a couple climbers on trees for the morning hunt, we went to room for night with high expectations for the morning hunt.
Morning hunt came and went with no deer. Not to mention my buddy left his (bow) release in the motel room. Maybe that is why he didn't see any deer? Two hours after daylight before he gets in the woods. I told him I wasn't going to tell anyone that he left his release, oh well...everybody knows you strap your release on your bow.
Evening hunt comes and goes, saw some deer but no shot presented. My floating guest arrives. Mid-day between the three of us, no one gets a shot at a deer.
We hunt the next morning. Same story, no deer seen. I didn't tell you but the weather was perfect. Low 40s in morning, mid 60s in the afternoon. Perfect for September 15 but no deer. The farm is beautiful. Plenty of crops, timber, and the river borders the back of the property. The farmer is harvesting crops while we are there, still no deer. So we decide to move to another farm. I have about 20 of the aerial photos of farms in the area printed and in the truck. We decide on a farm about an hour from where we are so we check to see if it is available, and call the office, to cancel present farm, reserve the new farm. Being that we as a group are all new members, I didn't realize we could have the whole farm if no one else was on the farm, thanks to the girls in the office we were able to get the whole farm. We load up all of our stuff move to new farm, consult map and choose some spots, to hunt for the evening.
I am in my stand for the evening hunt. Set up 30 yards off of crops, in big timber, with acorns all over. Plenty of deer sign just hoping for a deer, doe, yearling, buck, it don't matter, just a deer. 45 minutes into set I see a doe at about 75 yards. At first I think something is chasing her. Then I realize she is just a crazy doe, running all over woods, like she is doing wind sprints. Anyway she winds up under my stand smelling some limbs that I had cut as I had climbed the tree. Try as I might I can't get a shot on her. She just keeps darting around for no apparent reason. Finally wanders off back to where she came from. Well I am a little disappointed I didn't get a shot, but not too upset its opening week and I am seeing deer! I still have 2 hours of daylight left.
After about 20 minutes since the doe left, a small 6 pt buck walked by at about 60 yards, still in velvet, so things are picking up, deer are moving, expectations are improving. Ten minutes later, you know how it is, I just sense something. Peered over my left shoulder and there he is, standing at 20 yards, quartered to me browsing on green leaves, not a care in the world. Wind is perfect. I am 35 feet above him he doesn't know I am in the world. I'm thinking, "Oh Yeah, I got something for you big boy." I eased up from sitting to get turned on him. With bow in hand, ready to send a muzzy 125 his way, when suddenly I realize "I can't shoot!" His vitals are blocked! After what seemed forever, but probably only a few seconds, he moves a couple of steps, slight quarter to me and I send a 125 muzzy to him. Center punched, he bounces off about 15 yards, standing there like what happened.
Unknown to me, there was another buck with him that when the shot went off and that thud sound of impact, he bounced off to right under my stand and stood there for five minutes. Besides looking at him and the deer I shot I kind of lost track of my deer. But was confident he went down less than 50 yards from me. The last time I saw him he was wobbling. Finally the 2nd deer leaves. I get down, go to the place I shot him and find my arrow. I follow his blood trail, (Ray Charles could have followed) about 30 yards. I see the deer get up, but he's done. By the time I get to him he's down for good.