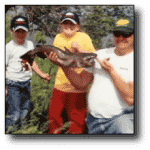 "Feel that cool breeze?" I can feel "and" smell that fall weather. Those hot "sultry days" of summer are gone. Yes, the fall hunting seasons are upon us and I'm all keyed up and ready to go FISHING! That's right, fishing! The water temperatures have cooled. The big boys should be more inclined to take your offerings.
So we have Dove, Teal and Turkey seasons upon us. Which-ever game I pursue, I will take my fishing rod along. During those mid-day slumps, I hit the ponds on HSP properties. Just remember to add "fishing" to your reserved selection. Make sure your reserved property has a pond. How do you do that? Try this - on the reservation system form, select the state and then select fishing. This will give you all farms that have ponds that are included in the lease. Once I selected Missouri fishing, the system gave me "21 properties." I then jotted down the farm number and the county of those that I wanted to check out. I ended the session (or back arrow) and went back to the beginning where you can select harvest reports. With the state still selected along with fishing, select harvest reports. Scan through all of the other states until you find Missouri. (Now you will also have "see map" along with "harvest reports." This list has the farms in alphabetical order by "Counties." Normally I look at the map (of a farm number that I jotted down). The maps normally will clearly show ponds. Then I go to the harvest reports. These reports are dated chronologically - oldest first, so I scan thru to the last two years and then read how fellow members fared. Here are a couple farms that I just randomly selected: "Sullivan County Mo., farm # 9010." Section a - 365 acres. "25 bass caught in 45 minutes!" OK, in the report the member noted all the bass were small. So be it…I have grandkids that would have a great time. Here is another - Monroe County Mo., farm # 4910. Section k is 450 acres. Only one section for this farm but noted "a 25 acre lake" and no reports! Do we have a sleeper here? Ok, one more for good measure - 11610 Harrison County Mo., Section O, 157 acres. "30 bass / 25 crappie were caught."
For those club fishermen who are not taking advantage of these farm ponds, you are missing a good bet. Even if you are scouting farms for future hunts, it is a great "break-time" feature.
Need any more incentive? That $10,000 reward has not been claimed as of this writing. All you have to do is catch a new state record largemouth bass out of our famous strip pits! For details Contact us for all details and requirements or better yet, go to our new facebook page for Hunting Sports Plus. A notice was emailed to all members dated 3/30/10, informing the membership of this offer.
Happy fishing!
Dave