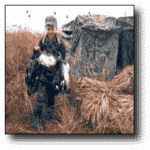 Christmas Eve, 2005 was the day my son and I had waited for, all of the 7 years of his life. Not because Santa was coming from the north that night, but because a huge cold front was coming from the north that morning.
The weather bureau had predicted cold mist and rain with a 15-20 mph wind from the northwest. What they didn't predict, was the fact that it was going to rain gadwalls like we had never seen. Drake (my son) and I had prepared for the worst. We took water-proof-blinds, rain gear, and luckily, a lot of shells.
The morning of our duck hunt began like any other. We found our pond in the dark, determined the wind direction, and placed the blinds accordingly. We had already decided to put a minimal spread of decoys out due to the late season wary birds. Lucky number seven and a motion wing, constituted our entire spread.
Just before shooting time as we talked about gun safety, maximum shooting range, and spending time together, we heard the unforgettable sound of "whistling" wings. We looked up and saw ducks everywhere. The sky was full of them, in the pond, in the decoys, they were just "EVERYWHERE."
We loaded our guns, looked at my watch and waited for a "Time/Confirmation" shot. I said "it's time," let's wait for someone to shoot first because these ducks aren't going anywhere. "Boom," we heard somebody else shoot and had our confirmation time. I told him to cock his single shot 20 gauge and pick a bird out and when I pop the top, wait until the duck is up and off the water and take him. as soon as I popped the top the ducks flew out of the decoys, he shot and folded a drake gadwall. I managed to spin around and took a double. High fives all around and reload!
The three splashes in the water must have been enough motion for the six deaf gadwalls circling to come on in. The little 20 gauge roared again and as his second duck splashed in our pond, I shot and doubled again. (6 ducks still a floatin").
a single came in, Drake missed so I downed the bird.
We frantically reloaded and laughed uncontrollably as yet more ducks worked our small yet effective spread.
"Cock your gun", I told Drake, "you take the one on the left and I'll take the one on the right." "Boom, Boom." (9 ducks a floatin'). Only fifteen minutes into our hunt I decided it was time to wade out and retrieve the ducks. So we unloaded our guns and out I went. after slogging through the pond retrieving our birds, and nearly getting stuck several times, it was time to sit back and watch Drake shoot his first limit of ducks.
He reloaded and over the course of the next 2 hours and MANY shells shot, other opportunities were passed due to thirsty cattle. If any cattle were drinking, I wouldn't let him shoot. He did it.
When I told him he only needed one more duck to limit, he couldn't believe it. When that last duck hit the water, I'll bet hunters could hear us cheer and whoop and holler for miles! It was a special day neither of us will ever forget.
Drake and I would like to tell everyone out there hunting, to remember what it's all about - Gun safety, maximum shooting range, and most important of all ... spending time together.
P.S. - We are already counting the days until Christmas.
(Ed. Note: Rick has earned a forever membership).